Occlusal Guards - "And throw that worthless servant outside, into the darkness, where there will be weeping and gnashing of teeth." Matthew 25:30 Matthew 25 Matthew 25:29-31
What is sportsdentistry and Sports Dentistry?
Occlusal Guards offer general protection to teeth not limited to athletes. Multi-function applications are discussed below. It is an important service available through your dentist. Your dentist submits a pre-treatment estimate using ADA procedure code 09940 for an occlusal guard. Often there is no out-of-pocket cost. Have your dentist e-mail or call 1-800-616-6399 toll-free for specific information. If approved your dentist simply sends us a full-arch maxillary impression or cast. A flexible custom protective occlusal guard is fabricated and returned to your dentist. Ultimately multi-function preventive occlusal guards save patients and insurance companies money. Other than fluoridation, occlusal guards rank as one of the most important contributions that dentistry has made to preventive medicine.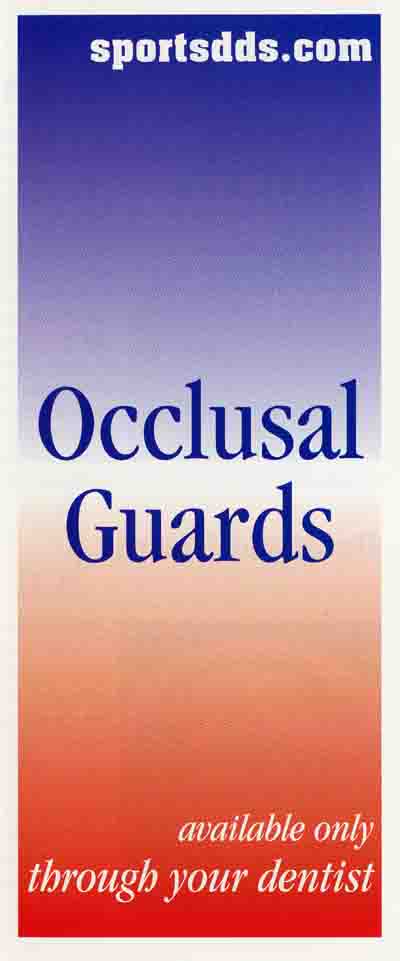 Occlusal guards are useful in cases of day or night grinding of teeth (bruxism) especially where there is evidence of enamel infractions. Infractions are tiny craze lines in tooth enamel. They can occur with trauma or differences in the coefficients of thermal expansion of dentin, enamel or various restorative materials. At times these micro-fractures preceed cuspal separation. Thermal sensitivity or discomfort when biting may be signs of iminent fracture. Intelligent use of occlusal guards can sometimes prevent or delay the need for expensive root canal, posts and crowns especially when grinding or clenching is present.
Your family dentist is the best judge. The close adaptation of custom fabricated SportsDDS.com occlusal guards usually does not require a "closed mouth" to be held in place. This means there is little interference with breathing and speech when compared with OTC devices.
"Protection from hard and soft tissue injuries, jaw fractures, temperomandibular joint (TMJ) and miniscular injuries are obvious goals of mouth protection. Additionally, more than half of all facial sports injuries involve either fractures of the alveolar process or luxation of teeth." -Linn E: Facial injuries sustained during sports and games, J Max Fac Surg, 14:83-88, 1986.
Dentist's prescribe and order an Occlusal Guard now!
Athletic Mouthguards - for a discussion of sports mouthguards, ADA procedure code 09941, kindly see boxing . SportsDDS.com athletic mouthguards are available through licensed dentists, team physicians and trainers. We also fabricate custom underwater scuba mouthpieces and for x-treme sports.. Ask us for our list of Affiliates. Tell them to call us for a quote. Professionals are invited to order Sports Medicine; Principles of Primary Care. C.V. Mosby Publishing Co, St. Louis, 1997 and read the chapter by Kurtz, Michael D., Camp, Joe H. & Andreasen, Jens O. on Dental Injuries.